Chula Vista Personal Injury Attorneys
Serving Clients Throughout Chula Vista, Oceanside, La Mesa and Southern California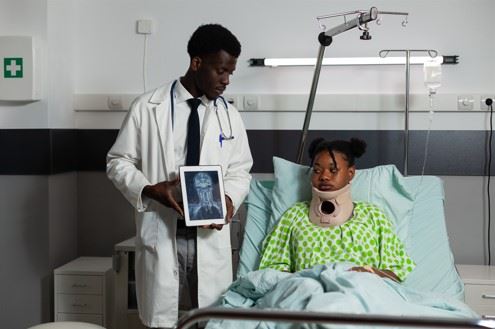 No one wants to have to file a personal injury lawsuit. Needing to pursue legal action means you have suffered serious injuries and likely financial harm as a result of one of many types of accidents. When someone's negligence leads to your experience loss or pain, you have a right to defend yourself and receive compensation for your injuries. Unfortunately, successfully filing a personal injury claim can be an overwhelming and exhausting process, a tall order for someone already struggling with the immediate impact of an accident.
Our Chula Vista personal injury lawyers at The Sexton Law Firm have helped numerous Southern Californians recover damages. Our law firm previously represented insurance companies in these matters but prefer serving individuals and their families.
This experience means that we understand how these cases are adjudicated and can more ably set your claim up for success. Our team is empathetic to the suffering you are experiencing and seek to make the personal injury claims process as painless and efficient as possible.
Call (619) 202-8976 or contact us online to discuss your injuries in a free consultation.
On This Page:
How Can a Personal Injury Attorney Help Me After an Accident?
An injury resulting from an accident can unfortunately sometimes only be the beginning of your troubles. In the wake of an accident, you will likely have to communicate with law enforcement, insurance companies, healthcare professionals, and even the negligent party's legal team. It can be an extremely stressful process when you're already dealing with painful injuries. Having a personal injury lawyer on your side can be beneficial in many ways.
A personal injury attorney can help you:
Understand the value of your claim: We know the laws and how to properly evaluate what your claim may be worth. Our team takes into consideration the cost to treat your injuries, medical bills, lost wages, pain and suffering, and any other damages stemming from your injuries.
Investigate your accident and fill out all paperwork. We can help you speak with law enforcement, gather necessary materials from your medical professionals, and represent you in any communications with the negligent party's attorneys. Our team has a complete knowledge of California's personal injury laws and will be able to quickly ascertain how to best approach your case. We can take care of time-consuming paperwork and stressful investigative conversations so that you can focus on getting better.
Negotiate and deal with your insurance company. You would hope that your insurance provider would be cooperative after you suffer a serious and obvious injury, but unfortunately, many companies will attempt to underestimate or outright deny the extent of your suffering. Because members of our team have over a decade of experience working directly with insurance companies, we are familiar with their tricks and know how to effectively overcome them. The last thing you need when managing a serious injury is getting bogged down with paperwork or a battle with insurance companies. Hiring our firm means you can focus on recovery.
The negligent party will be looking to minimize their liability as much as possible. Your attorney can be your strongest advocate and push for your best interests so you are able to recover the maximum amount possible.
Guiding You Through Your Personal Injury Claim
We handle a wide variety of personal injury cases. Regardless of its category, no case is too small or too complex. Our team can evaluate the facts of your situation to determine if you have a claim and how best to approach it.
Our Chula Vista personal injury attorneys can help you with cases involving:
Car Accidents. Vehicle-on-vehicle collisions are some of the most common and dangerous types of accidents. If the negligence of another driver led to an injury-causing crash, we can help you pursue a personal injury claim, even against motorists who are uninsured or underinsured.
Distracted Driving Accidents. Many automobile accidents are triggered by distracted driving, an irresponsible and unlawful practice in which a motorist fails to keep their attention on the road. Texting, cellphone use, and eating while driving are some of the most typical instances of distracted driving, and all of these behaviors can indicate actionable negligence should they result in an accident.
Bicycle Accidents. Cyclists are beholden to the same rules of the road as those operating automobiles, yet many motorists fail to treat those on bicycles as equals. When a car collides with a bicycle, the cyclist is often subject to especially severe injuries due to their lack of airbags, seatbelts, and other automobile protective equipment. Those on bicycles who suffer injuries at the hands of motorists despite following traffic rules are typically entitled to damages.
Motorcycle Accidents. Motorcyclists are some of the most vulnerable individuals in an accident, especially if the collision is with a larger vehicle. Though motorcyclists are required by law to wear helmets, that is often not enough to prevent serious injuries. We can help pursue damages for those injured in motorcycle accidents, including those resulting from visibility issues.
Pedestrian Accidents. Pedestrians who are struck by an oncoming vehicle often suffer from terrible and preventable injuries. So long as the pedestrian was following traffic signals and using crosswalks, a driver who causes a collision will be held negligent for their actions.
Truck Accidents. Accidents involving trucks can lead to devastating injuries due to the inherent size of the vehicle. Because of the way the trucking industry is structured, you may be able to hold trucking companies, negligent weigh station operators, negligent mechanics, and/or manufacturers of defective vehicle components accountable for injury-causing accidents in addition to the negligent driver themselves.
Catastrophic Injuries. If any type of accident results in spinal injuries, brain injuries, burn injuries, loss of limbs, or any other permanent disability, it is essential that you fight for the maximum amount of compensation you are owed. We can help you recover damages for both lost income and lost income opportunity in addition to other types of damages.
Dog Bites. Dog owners and operators of businesses where dogs are present (like groomers) are responsible for the safe handling of their animals. When a dog viciously attacks and bites you, you are often entitled to physical and emotional damages.
Slip and Fall Accidents. Property owners have a legal responsibility to maintain safe premises for their visitors. This means that businesses are required to operate safe facilities free of unnecessary risk and perform frequent due diligence to guard against hazardous conditions that can easily develop. Should you be injured in a slip and fall accident due to a property owner's failure to maintain the safety of their premises, you may be entitled to compensation.
Spine Injuries. Injuries involving the spinal cord are a type of catastrophic injury and can be depressingly common in automobile accidents. Individuals who suffer spinal injuries will be left with a substantially decreased quality of life and an inability to maintain their previous employment. We can help those dealing with spinal injuries following an accident receive the maximum amount of damages possible.
Wrongful Death. Losing a loved one to an accident caused by another party's negligence represents an impossible loss. While monetary damages can never replace someone who has passed away before their time, we can still help hold the responsible parties accountable through wrongful death legal action.
Recover the Compensation You Deserve. Call Today!
You deserve compensation for suffering injuries at the hands of someone's negligence, but mounting a successful personal injury claim can be a protracted and involved affair. Our Chula Vista personal injury lawyers at The Sexton Law Firm can work with you to ease your stress and pursue legal action as efficiently and effectively as possible.
Our Chulo Vista law firm help you make informed decisions on how to proceed and keep you appraised of key developments in your case and. We will take care of the bulk of the legal work while you focus on getting better.
Call (619) 202-8976 or contact us online for a free consultation.
Why Hire The Sexton Law Firm?
We Listen to Your Story and Create a Strategy to Achieve Your Goals

With offices in Chula Vista, Oceanside, and La Mesa, we serve clients throughout all of Southern California

We Offer Free Consultations - Regardless of the Legal Matter

We Offer Phone and Video Consultations For Your Safety and Convenience

We Are Bilingual and Serve Our Clients in English and Spanish

We Are a Family Owned and Operated Law Firm